Our Doctors
Dentistry As Relaxing As Being On A Cruise
Estamos orgullosos de poder brindar nuestros
servicios a personas de habla española.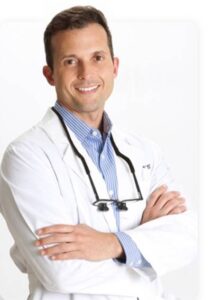 Dr. Raymond Santa-Cruz is known throughout the region for his gentle touch and painless procedures. His empathy for his patients sets him apart from his peers. Dr. Santa-Cruz is a native Floridian. He received his undergraduate education at the United States Naval Academy, earning a BS in Systems Engineering. Upon graduation from Annapolis, Dr. Santa-Cruz completed flight school and earned his wings as a Naval Flight Officer. After almost a decade of honorable military service and several overseas deployments, he resigned his active duty commission and enrolled at the University of Mississippi School of Dentistry. In dental school, Dr. Santa-Cruz won several academic awards, was elected an Ethics Committee member by his peers, and served as president of a Student Dental Association. Upon graduation, he moved back to his home state and began his practice of General Dentistry in Southwest Florida. Dr. Santa-Cruz continues to serve his nation as a Commander in the United States Naval Reserves Dental Corps, while continually seeking to improve himself by taking as much Continuing Dental Education as possible. In 2020 Dr. Santa-Cruz remotely earned a Masters of Health Administration (MHA) from Florida International University. Whenever possible, Dr. Santa-Cruz tries to give back to the community by volunteering with organizations such as Projects Dentists Care, Meals on Wheels, Toys for Tots and is also a member of St. Francis Xavier Church. He enjoys being in and around the water, and above all else Dr. Santa-Cruz treasures the time he spends with his beautiful wife Christina and their children Reeves, Rowan and Penelope.

Dr. Person was born and raised in St. Andrew, Jamaica. After High school, she moved to South Florida where she graduated from Miami Dade College, earning her Associates Degree, with highest honors. Dr. Person went on to attend Florida International University and graduated Suma Cum Laude with a Bachelor of Science degree in Biology.  Upon graduation, she received a clinical scholarship to attended Virginia Commonwealth University, School of Dentistry, where she earned her Doctor of Dental Surgery (D.D.S.) degree.
While in Dental school, Dr. Person participated in many community service events and was instrumental in organizing VCU's first Annual Oral, Head and Neck Cancer Screening. She was also a Teaching Assistant in the Department of Prosthodontics where she helped to train dental students in crown and bridge preparations.
After graduating dental school, Dr. Person practiced in Virginia where she was on the Board of the Virginia Dental Association New Dentist Committee. Dr. Person has pursued numerous continuing dental education since graduation, having acquired additional training in Non-surgical Endodontics, Dental Implant surgery, Cosmetic Dentistry and Dental Sleep Medicine.
Dr. Person is currently affiliated with several dental organizations, including:
American Dental Association (ADA)
Florida Dental Association (FDA)
West Coast District Dental Association
Lee County Dental Society
Dr. Person is passionate about providing access to dental care and is a frequent volunteer at Project Dentists Care in Fort Myers. When not hard at work serving patients, Dr. Person enjoys fishing, reading and spending time with her husband and three sons.
Tyler Sundstrom
08/06/2023
Cruizn dental is also very professional and welcoming when you come in to there office, glad a found them would highly recommend them for all your dental needs, best dentist in southwest Florida
The staff at Cruzin' Dental are caring and warm, efficient and professional. Dr. Santa Cruz has quickly taken his place among my favorites. He listens carefully and is very considerate of his patients. He has a calming manner and an easy sense of humor. He and his staff have provided excellent care. I highly recommend his dental practice.
Very pleased with service I was nervous they made me feel comfortable and explained everything to me.
Marjorie Jean-Louis
17/04/2023
they are truly professionals. very warm welcome.
I had a root canal done by Dr Santa Cruz. A bit worried about the pain it may cause. To my surprise there was absolutely no pain. The staff are all friendly and caring.
Great First impression , front desk lady is super sweet and the doctor and assistants answered all my questions
This place is awesome! There is a lot to be said about going to see a dentist very nervously but not here the staff is exceptional and friendly wonderful from the moment I came in till the moment I left. The area super clean and inviting. Dr. Santa Cruz who is a Navy Vet is knowledgeable and courteous same said about his staff of helper. As a veteran myself I highly recommend Cruzin Dental to all my Vet friends and to anyone needing dental work. Great Job!!! 5 Stars. Aloha to everyone.
Absolutely loved everything about this office. The front staff was amazing and I noticed they greeted everyone by their first names! Dr.Cruz was personable and his work was excellent. They took me as an emergency case due to a cracked tooth. We are part time residents and will be changing from our present one to them!
Orlando Esparra
10/03/2023
This is a very amazing dentist office. They make you feel comfortable, very family friendly. I recommend coming here.
Amazing experience! Outstanding staff and Dr Persons is very gentle and kind!